August 5, 2015 / Daisy, Events, News
Knotty Objects: Steak Shortie
For Knotty Objects, the first MIT Media Lab Design Summit, I was set a challenge by the conference curators, Paola Antonelli, Kevin Slavin and Neri Oxman to 'captain' a team to make a short provocation about in vitro meat. Along the way, we discovered that the steak incorporated all the hallmarks of a knotty object, a term coined for the summit. Working with New York based production comapny m ss ng p eces, who were commissioned to make four shorties in all (bitcoin, brick, steak and phone) and in vitro meat speculative designer, Koert Van Mensvoort, our provocation attempts to move away from the existing discussions around the palatibility of in vitro meat, and instead to delve into the complex discussion around sustainability, human desire and industrial capitalism that drives the meat industry. Many different agendas. In three minutes.
The shortie was a provocation for the panel New Dimensions in Organic Design (video) moderated by Alexandra Midal, where we discussed the design of life with scientist Kevin Esvelt from Harvard's Wyss Institute, and Isha Datar of New Harvest, a not-for-profit that supports in vitro meat as a future industry.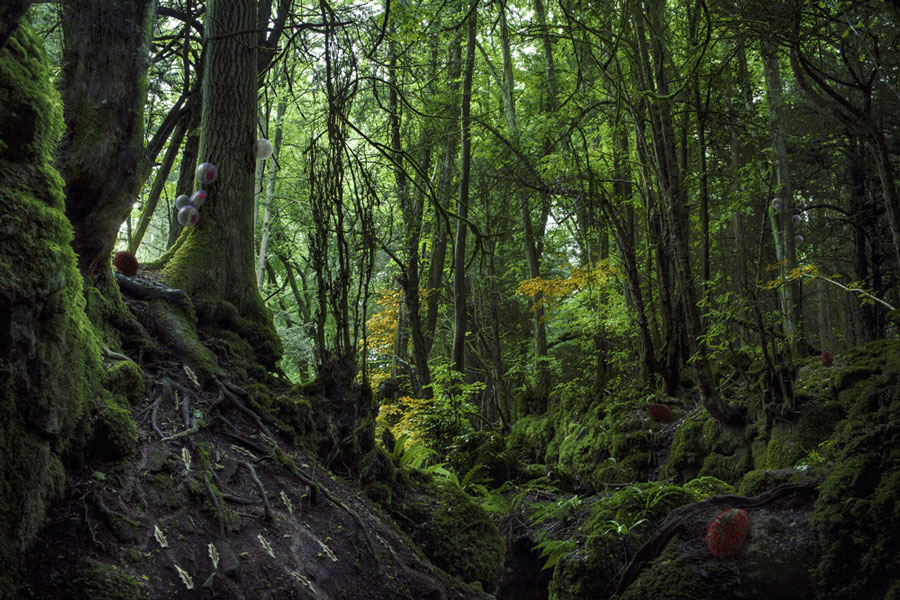 March 16, 2015 / Studio, Daisy, News
Designs of the Year 2015 Nomination

Designing for the Sixth Extinction has been nominated for the prestigious Designs of the Year Awards by London's Design Museum. One of 76 nominations, Designs of the Year "celebrates design that promotes or delivers change, enables access, extends design practice or captures the spirit of the year." Design experts, practitioners and academics from across the world are asked by the Design Museum to suggest potential projects, from which the museum has selected 76 for nomination and display in the exhibition. A specially selected jury chooses a winner for each category and an overall winner. This is the second time that my work has been nominated for Designs of the Year, with E. chromi featured in the 2011 exhibition. The work will be part of the Designs of the Year exhibition at the Design Museum from March 25th 2015 to August.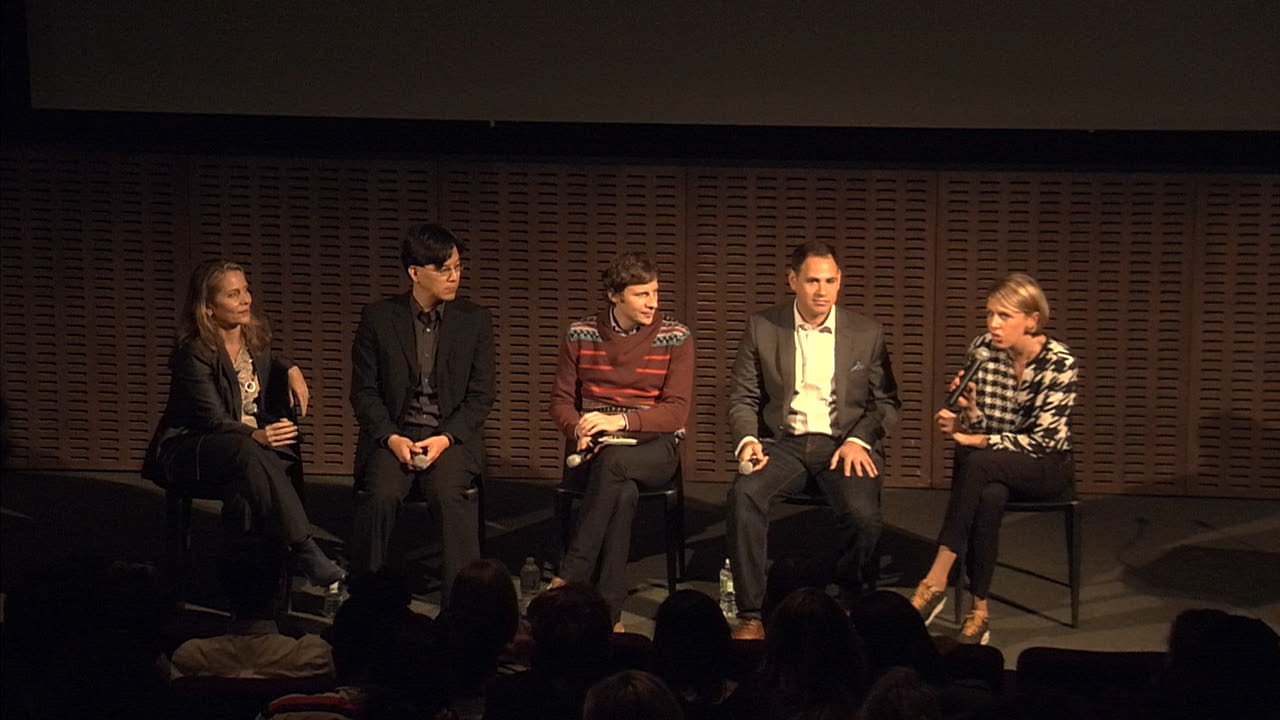 January 8, 2015 / Daisy, Events, News
Synthetic Aesthetics at MoMA NYC

Paola Antonelli, Senior Curator at MoMA's Department of Architecture and Design, writes: "What happens when biology—specifically, the core materials and processes that underpin the life cycle of all living beings—birth, existence, disease, and death—becomes synthetically replicable by humans and, consequently, a building block for design? In the wake of the recent MIT publication Synthetic Aesthetics, and just a few days prior to the iGEM (International Genetically Engineered Machine) Synthetic Biology 2014 Jamboree in early November 2014, we set out to discuss this complex, compelling question at MoMA by hosting a panel discussion, Synthetic Aesthetics: New Frontiers in Contemporary Design."
Led by Paola Antonelli, we were joined on the panel by architect and Synthetic Aesthetics resident, David Benjamin, Genspace co-founder Dan Gruskin, and DNA origami specialist, biochemist William Shih from Harvard's Wyss Institute. A lively question and answer session followed. Read Paola's post on the MoMA Inside Out blog, and a review of the event on Hyperallergic.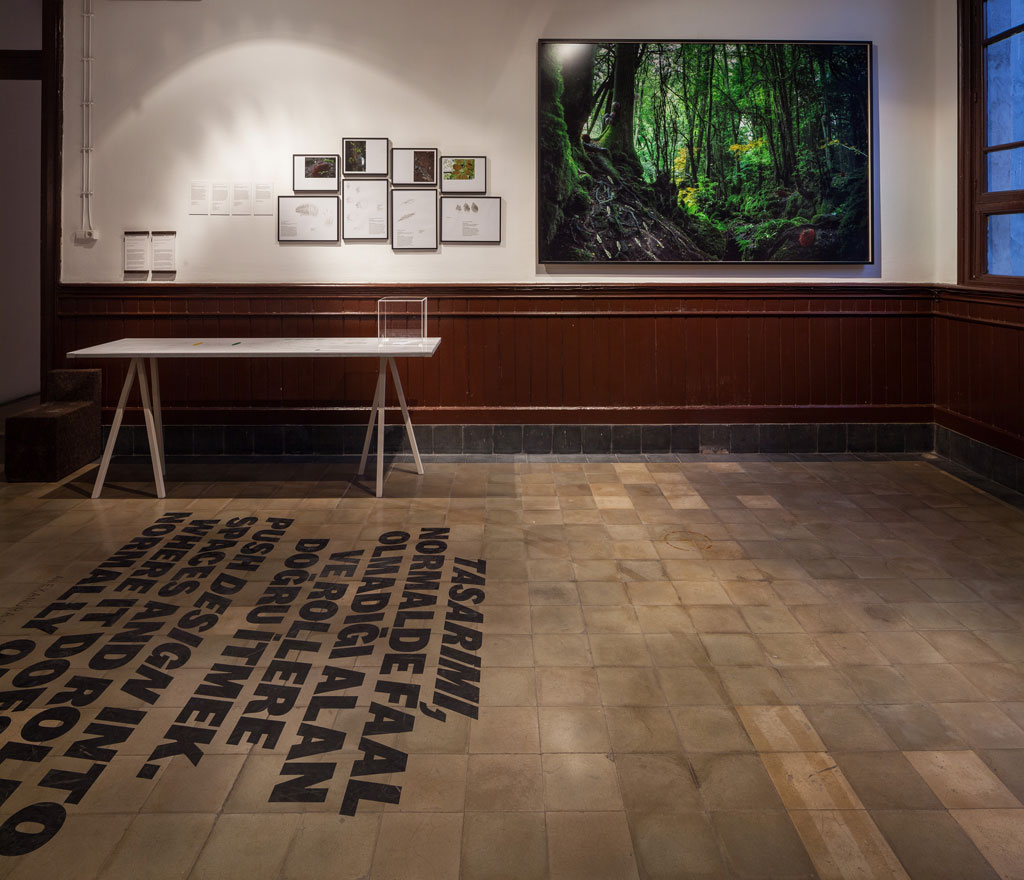 December 8, 2014 / Events, News
The Future Is Not What It Used to Be
An expanded version of Designing for the Sixth Extinction is on display at the Second Istanbul Design Biennial until December 14 2014, curated by Zoe Ryan and Meredith Carruthers. Designing for the Sixth Extinction imagines a series of new machine that might repair toxic landscapes and forestall imminent ecological collapse. For the biennial, Ginsberg offers insights into the "ecology" of her own research for one of these machines, a "bio-remediating slug."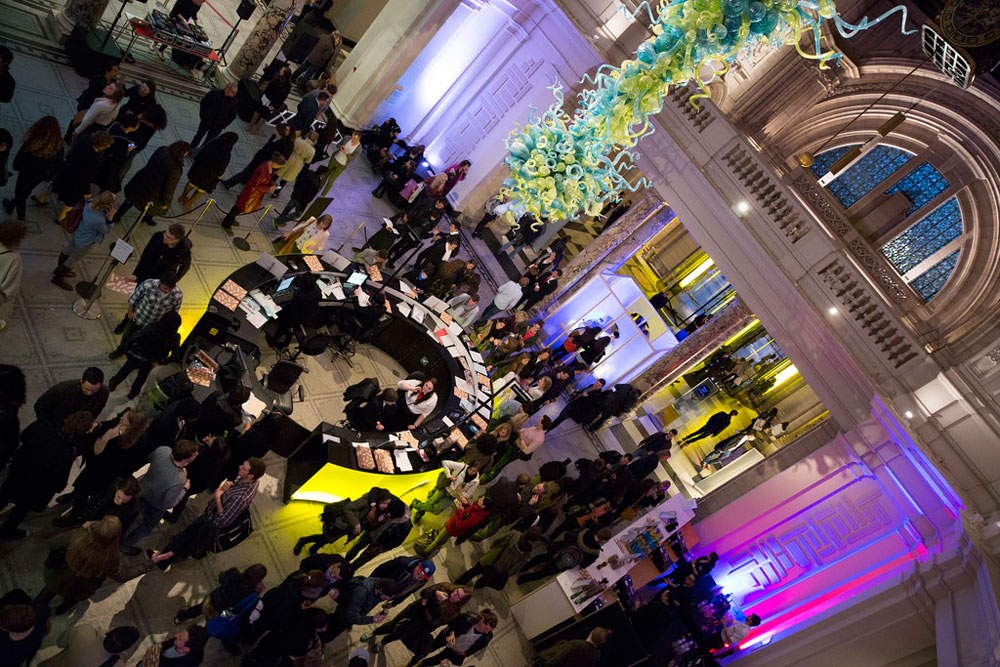 May 1, 2014 / Events, News
V&A Friday Late: Synthetic Aesthetics
Our biological takeover of the V&A was a fantastic launch for the Synthetic Aesthetics book at last week's Friday Late. Over the evening, more than 4000 visitors experienced over 20 workshops, installations, talks and chatted with Imperial College's synthetic biologists working in the Live Lab right in the V&A Atrium. The programme is here, and see photos from the event here. David Willetts, the UK Minister for Science and Universities, introduced our authors' talk and panel, chaired by The Economist's Oliver Morton.
Some of the events:
LIVE LAB
Spotlight Space, Grand Entrance
A functioning synthetic biology lab in the grand entrance places this experimental field front and centre within the historic home of the V&A. Conducting experiments and answering questions from visitors, the lab will be run by synthetic biologists from Imperial College London's EPSRC National Centre for Synthetic Biology & Innovation and SynbiCITE UK Innovation and Knowledge Centre for Synthetic Biology.
XYLINUM CONES
Lunchroom
What would it mean for our daily lives if we could grow our objects? Xylinum Cones presents an experimental production line that uses bacteria to grow geometric forms. Meet designers Jannis Huelsen and Stefan Schwabe and learn how they are developing a renewable cellulose composite for future industrial uses.
SELFMADE
Poynter Room, Café
This film tells the story of how biologist Christina Agapakis and smell provocateur Sissel Tolaas produce human cheese. Using swabs from hands, feet, noses and armpits as starter cultures, they produce unique smelling fresh cheeses as unusual portraits of our biological lives.
THE OPERA OF PREHISTORIC CREATURES
Raphael Gallery
'Lucy', the extinct hominid Autralopithecus Afarensis, performs an opera just for you. Marguerite Humeau recreates her vocal tract and cords to bring you the lost voice of this prehistoric creature.
ELECTRO MAGNETIC SIGNALS FROM BACTERIAL DNA
Cast Courts
Can we imagine what it sounds like inside the molecular structure of a DNA helix? This composition is inspired by theoretical speculation on bacteria's ability to transmit EMF signals, played amongst the V&A's cast collection.
SYNTHETIC AESTHETICS ON FILM
The Lydia and Manfred Gorvey Lecture Theatre
DNA replication, Bjork, swallowable perfume… these eight films demonstrate a myriad of cultural crossovers; synthetic biology at its aesthetic finest.
Dunne & Raby – Future Foragers (2009)
Tobias Revell – New Mumbai (2012)
Lucy McRae – Swallowable Parfum (2013)
UCSD – Biopixels (2011)
Zeitguised – Comme des Organismes (2014)
Drew Berry for Bjork – Hollow (2011)
Alexandra Daisy Ginsberg and James King – E. chromi (2009)
Mediated Matter, MIT Media Lab – Silk Pavilion (2013)
DNA EXTRACTION
Learning Centre: Art Studio
Extract your own DNA in the V&A's popup Wetlab and chat with synthetic biologists from Imperial College London. Synthetic biology designs life at the scale of DNA, and tonight you can take the raw materials of life home with you. With thanks to Imperial College London's EPSRC National Centre for Synthetic Biology & Innovation and SynbiCITE UK Innovation and Knowledge Centre for Synthetic Biology.


OLDER POSTS >
Installation view. Photograph: Sahir Ugur Eren
The V&A Atrium at the Friday Late: Synthetic Aesthetics. Photo: Victoria and Albert Museum.