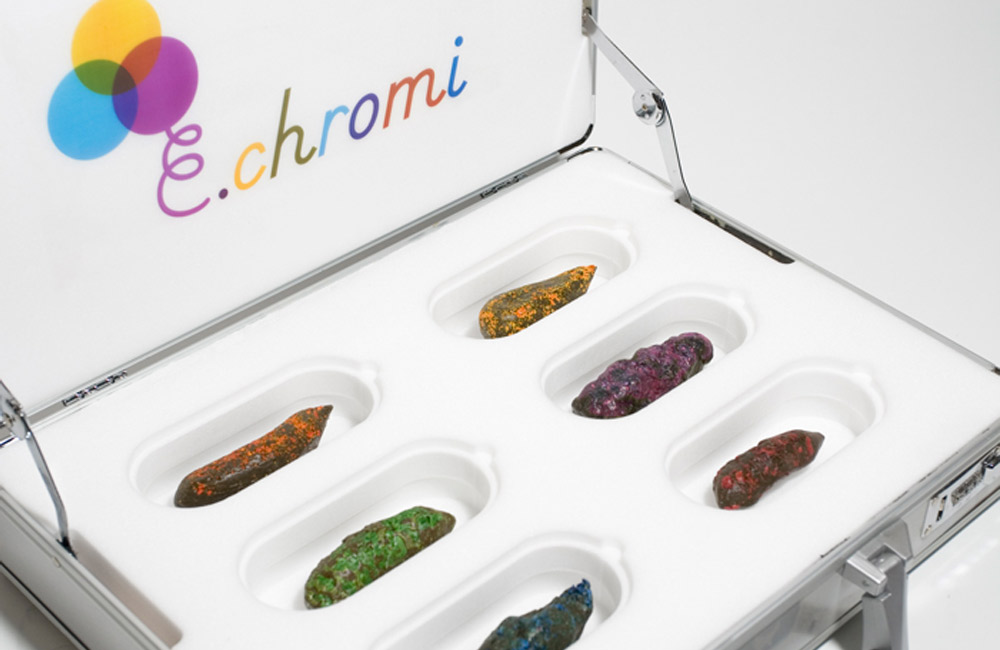 Alexandra Daisy Ginsberg & James King
Embossed aluminium briefcase, foam, acrylic, printed vinyl, plastic models.
E. chromi is a collaboration between designers and scientists in the emerging field of synthetic biology. The Scatalog was one outcome of a series of workshops with students from the University of Cambridge in 2009. The first Scatalog briefcase was taken to the iGEM Jamboree in 2009. Its contents suggest an alternative aesthetic for biological computing with the human gut as interface, and outlines a future where, through synthetic biology, disease monitoring has become a cheap, personalised, consumer product.
Appearances:
Permanent collection of the Museo Delle Scienze, Trento
Museum of Contemporary Art, Tokyo
Science Gallery, Dublin
EDF Foundation, Paris
Index Awards, Asia tour
MoMA, New York
The National Museum of China, Beijing
Design Museum, London
The Wellcome Trust, London
St Etienne Biennale Internationale Design,France
Nomination, Brit Insurance Designs of the Year, 2011
Nomination, Index Awards, 2011
Limited Edition of 5
4 available
P.O.A