Writing + Curation + Editions
2013–2014
Exhibition at Science Gallery,Trinity College Dublin, October 25 2013–January 19 2014. Visit the exhibition microsite, or buy the catalogue.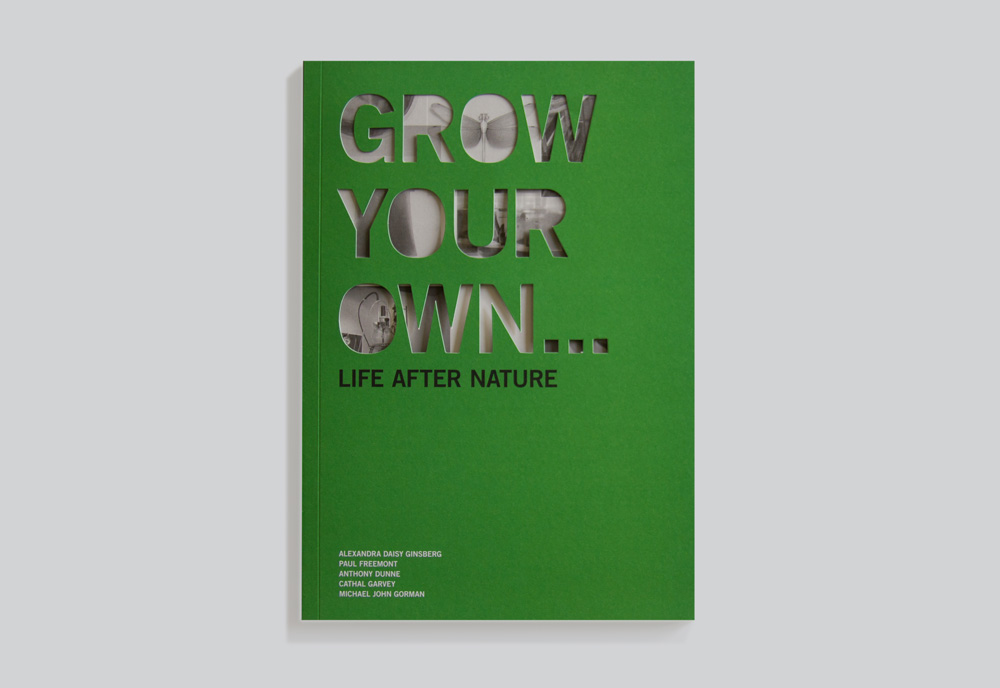 The Grow Your Own… Life After Nature exhibition at Science Gallery at Trinity College Dublin invited visitors to consider some of the potentially ground-breaking applications and uncertain implications of synthetic life. Tackling the provocative questions that designing life raises, Grow Your Own... gave the visitor the opportunity to help shape future discussions around synthetic biology - an emerging approach to genetic engineering - bringing together engineers, scientists, designers, artists and biohackers to design 'living machines'.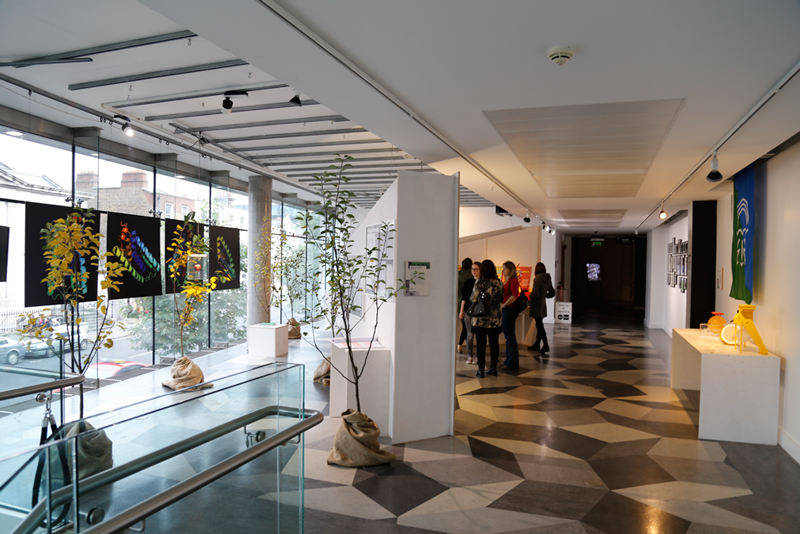 The exhibition was lead curated by Alexandra Daisy Ginsberg, with Professor Anthony Dunne (Royal College of Art), Professor Paul Freemont (Imperial College), Cathal Garvey (biohacker) and Michael John Gorman (Science Gallery).
The exhibition featured twenty works by artists, designers and scientists from around the world, including seven commissions produced for the show. The show was divided into three themes, Grow Your Own… Life, Grow Your Own… Society, and Grow Your Own… Machines. Further details of works, themes and curators' essays are here.
As they entered the show, visitors encountered a working laboratory that opened into the gallery. The 'Community BioLab' hosted a series of residencies of DIYbio practitioners, artists, designers and scientists from around the world. Each of these week-long residencies included workshops and talks with the public, and time to produce new work in the lab. See below for a full list of lab residents.
In addition to these hands-on lab activities, a busy events programme included talks, debates and workshops, curated by Alexandra Daisy Ginsberg and Science Gallery. These ranged from a debate on hype and synthetic biology hosted by The Guardian's Alok Jha, a lecture on hip-hop and synthetic biology from author and presenter Adam Rutherford, Planetary Sculpture supper clubs, to the first event of the President of Ireland's Ethics Initiative, which saw bioengineer Drew Endy of Stanford University in discussion with Hugh Whittall, Director of the UK's Nuffield Council on Bioethics.
The catalogue, including extended essays and information, is available to purchase. Photographs of the exhibition are here, here and here, and videos of the artists and designers talking about their work can be seen here. The show had extensive international press coverage, including reviews by The Guardian and Nature.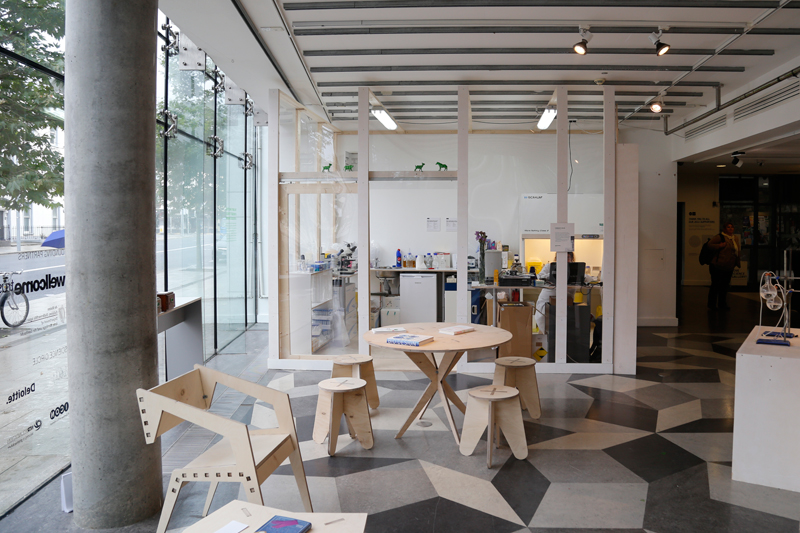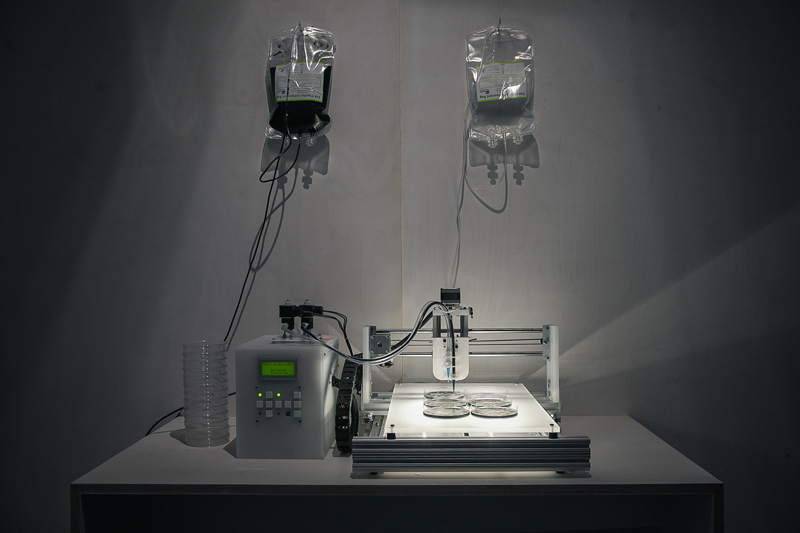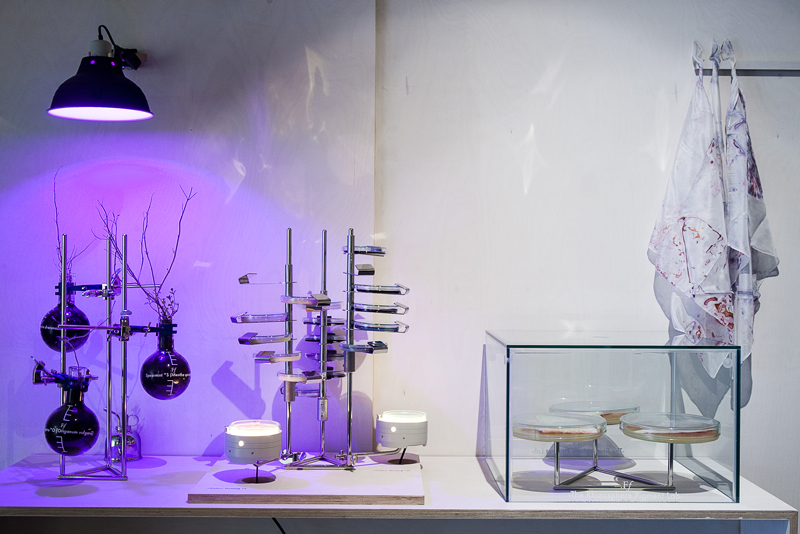 ARTISTS & DESIGNERS
Koby Barhard
Howard Boland
Alexandra Daisy Ginsberg & James King
Tobias Revell
Christina Agapakis & Sissel Tolaas
Ai Hasegawa
Vincent Fournier
Charlotte Jarvis
David Benqué
Heather Dewey-Hagborg
(Art)ScienceBLR
Shiho Fukuhara & Georg Tremmel
Stefan Schwabe & Jannis Hulsen
Oron Catts, Ionat Zurr & Corrie van Sice
Adam Brown in collaboration with Dr. Kazem Kashefi
Sascha Pohflepp
Natsai Audrey Chieza in collaboration with Professor John Ward
Agatha Haines
COMMUNITY BIOLAB RESIDENTS
Genspace, New York
Dr Christina Agapakis, UCLA, & Sissel Tolaas, Berlin
(ART)ScienceBLR & Dr Mukund Thattai, NCBS, Bangalore
Jemma Pilcher & Margerita Kopniczky, Imperial College London
Cathal Garvey, Cork
La Paillasse, Paris
Science Gallery Mediators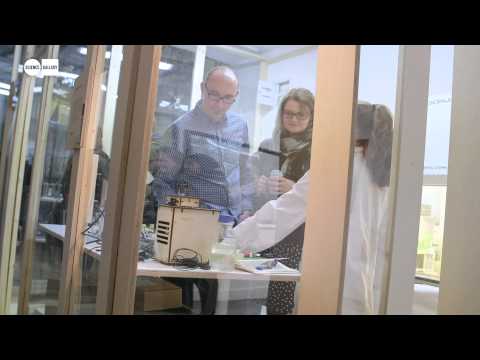 Exhibition at the Science Gallery, Trinity College Dublin, October 24 2013–January 19 2014.
Curated by Alexandra Daisy Ginsberg, Paul Freemont, Anthony Dunne, Cathal Garvey, Michael John Gorman.
Exhibition Design: Rob Warren
Exhibtion Build: Designgoat
Graphic Design: Ruza Leko & Lara Hanlon
Thanks to: Michael John Gorman and the Science Gallery team and staff, Anthony Dunne, Paul Freemont, Cathal Garvey, Science Gallery mediators, Scott Burnett at Aad & Renate Henschke and all the participating artists, designers, scientists and biohackers.